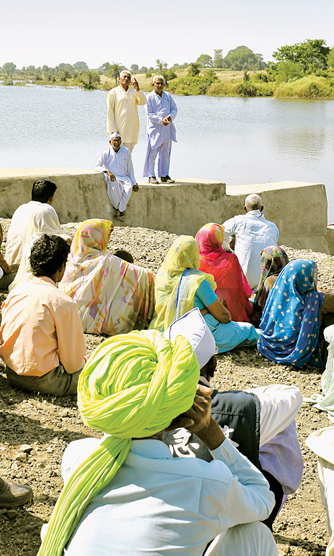 ITC has spearheaded a large scale social investments programme christened Mission Sunehra Kal.
This programme aimed at building rural capacity in partnership with local communities to develop water and forest resources, open up new non-farm livelihoods, empower women economically and expand primary education.
The Mission now embraces a community of thousands of villages that are influential nuclei of change in rural localities spread over 12 States. A clearly focused self-help movement has gained ground in village after village in these areas, with farmers co-operating to create much needed economic, environmental and social assets out of their own resources.
By linking knowledge and technology transfer to the creation of economic and social capacity, ITC has brought a new dynamic to rural development.
Integrated Watershed Development Programme
With over 2,10,000 hectares of land under soil and moisture conservation, ITC's Integrated Watershed Development Programme has today helped conserve soil and moisture for over 1,65,000 households covering 40 districts across ten states (Andhra Pradesh, Telangana, Karnataka, Madhya Pradesh, Maharashtra, Rajasthan, Odisha, Bihar, Tamil Nadu and Gujrat) in India. The development and conservation of water resources is undertaken by facilitating community participation in planning and executing watershed projects. Most of the watershed programmes are now being implemented in partnership either with NABARD or various state governments.
ITC's Watershed projects have reinforced the Water Positive status of the Company for the 13th year in a row. The total rain water harvesting potential so far created by the Company is over two times the net water consumption by its operations.
| | |
| --- | --- |
| Watershed Development | Now |
| Water harvesting structures | 6637 |
| Water user groups | 1567 |
| Area under soil & moisture conservation (hectares) | 2,12,282 |
| Employment generation (person-days) | 4.83 million |