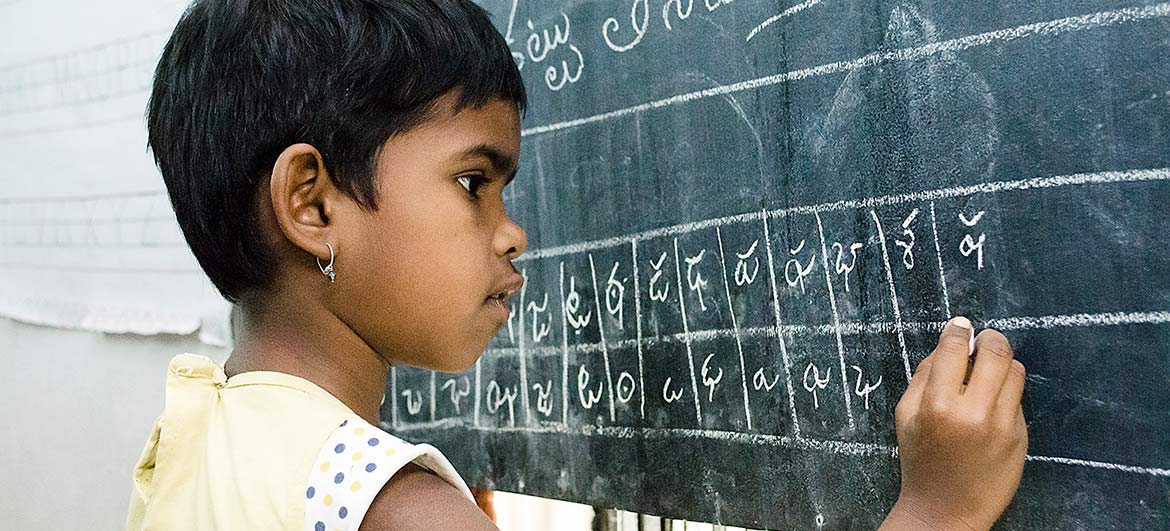 Aashirwad a school for girl children is a flagship program of CHORD that aims to educate, empower, enrich, and enliven the lives of rescued girl child labourers. The journey once embarked will help them acquire primary and secondary and thereafter ensures a clear career path towards formal higher education and vocational training to prepare them for a bright successful future. The program provides a holistic and flexible learning opportunity to children and also lays emphasis on supporting children in their early adulthood stage and strives to empower the students by making up for lost education and rebuilding a learning foundation, integrating the child into main stream education and enabling the child toward a sturdy development plan through guidance and care.

In its Sixth year of operation the program has so far educated and mainstreamed 1225 Girl children besides promoting multi-stakeholder participation and establishing a unique and replicable development model
Key Highlight of the Project
Multi-Stakeholder Participation driving an innovative social initiative in finding a replicable, scalable and sustainable solution to a longstanding and seemingly insurmountable social evil - Child labour among girl children. A Corporate giant (Qualcomm), an NGO (CHORD), Government agency (National Child Labour Project) and Community combining their collective forces and strengths in comprehensively eliminating child labour among girl children

The Beginning: The Girl Child Project is an innovative program that came into existence in the year 2011 in order to address the issue of girl child-labour and to eradicate the social evil in Kukatpally. Though this self-sustaining project is replicated at other places in due course, the Kukatpally region had been organization's prime focus as there is a considerable number of industrial populace living in the area. The Girl Child Project is a Bridge School that operates by CHORD's joining forces with corporate companies, government agencies, community partnership, individual donors and volunteers who lend a hand in tackling this dehumanizing child-labour problem.

Methodology adopted: SCHOOLING, SKILLING, SENSITIZING

A comprehensive three-pronged strategy has been adopted to eliminate child labour among girl children in the target area by focusing on all three constituents of the milieu of a slum community i.e. children, family and the populace of the community for the simple reason that merely educating a child will not end the practice of child labour since the root cause is family poverty and ignorance of the community. As such CHORD intends to address all three constituents of the slum by educating children, providing skill development to family members towards attaining a livelihood opportunity and sensitizes the entire community on the issue of child labour on abstaining from the practice of employing children in order to achieve overall growth and harmony of the slum or the community.

Salient Features of the program

Beneficiary profile: Vulnerable children between the ages of 7 & 14 are identified by means of survey, rescued from the traumatic condition, and are given a good educational opportunity. Organization caters to victims of child labour, school dropouts and those that are not enrolled into schools due to lack of educational interest. Organization thereby employs counselling to help the child adapt to school atmosphere.

Joyful Learning Environment: The objective is to infuse the child with interest towards education and to help her envision a better future. The curriculum is specially designed for children coming from non-privileged background. Remedial Education comprises of three Bridge Course levels that address the shortage of learning in each student in order to prepare them for higher education. It is a middle path between rigorous academy and recreation. The curriculum incorporates aspects of formal school education and recreational learning fitting to the needs of remedial education. Organization guides the child to acclimatize themselves to pressures of academy while making sure she preserves interest.
Constant Evaluation: Constant evaluation of the student in order to assess her progress is a key factor in CHORD's attempt to promote children into formal education. In line with CHORD's plans to mainstream students into formal schools, the project adheres to continuous and comprehensive evaluation of each and every student in the school. Tests are conducted on a regular basis and their results are considered for the fine-tuning of any of the variables involved ranging from teacher capacity to student proclivity.

Holistic Development: To ensure holistic development and to maintain interest among students of little educational aptitude the project exercises dynamic methods and proper tools. The infrastructure of the Girl Child Project allows for such facility wherein the involved corporate and individual enthusiasts interact with the children on a regular basis in order to stimulate growth and also to increase exposure for the urban-deprived. These measures are helping in the improvement of students' abilities in a holistic manner.
Multi-Stakeholder Participation: Corporate Social Responsibility, along with other means of support like that of National Child Labour Project, community partnership and Individual Donors and Volunteers is driving program to make social development a reality. This indeed has been the most interesting aspect of the Girl Child Project in the sense that it obtains help for social change through innovative inclusion of resourceful agencies. CHORD's reputation regarding sincere hard work and its dedication concerning social transformation has made possible this amazing collaboration of multiple organizations in the eradication of Child Labour in Kukatpally. Girl Child Project has in its list of Corporate Involved, some big names such as Microsoft, Qualcomm, Accenture, Cognizant, UHG and TFL. Corporate, Government, Local Community and NGO working-in-tandem is clearly the highlight of the project. This innovative pooling-in of resourceful agencies in creating opportunity for the underprivileged is proven to be bettering not just the lives of individual girls but even the lives of their future families.