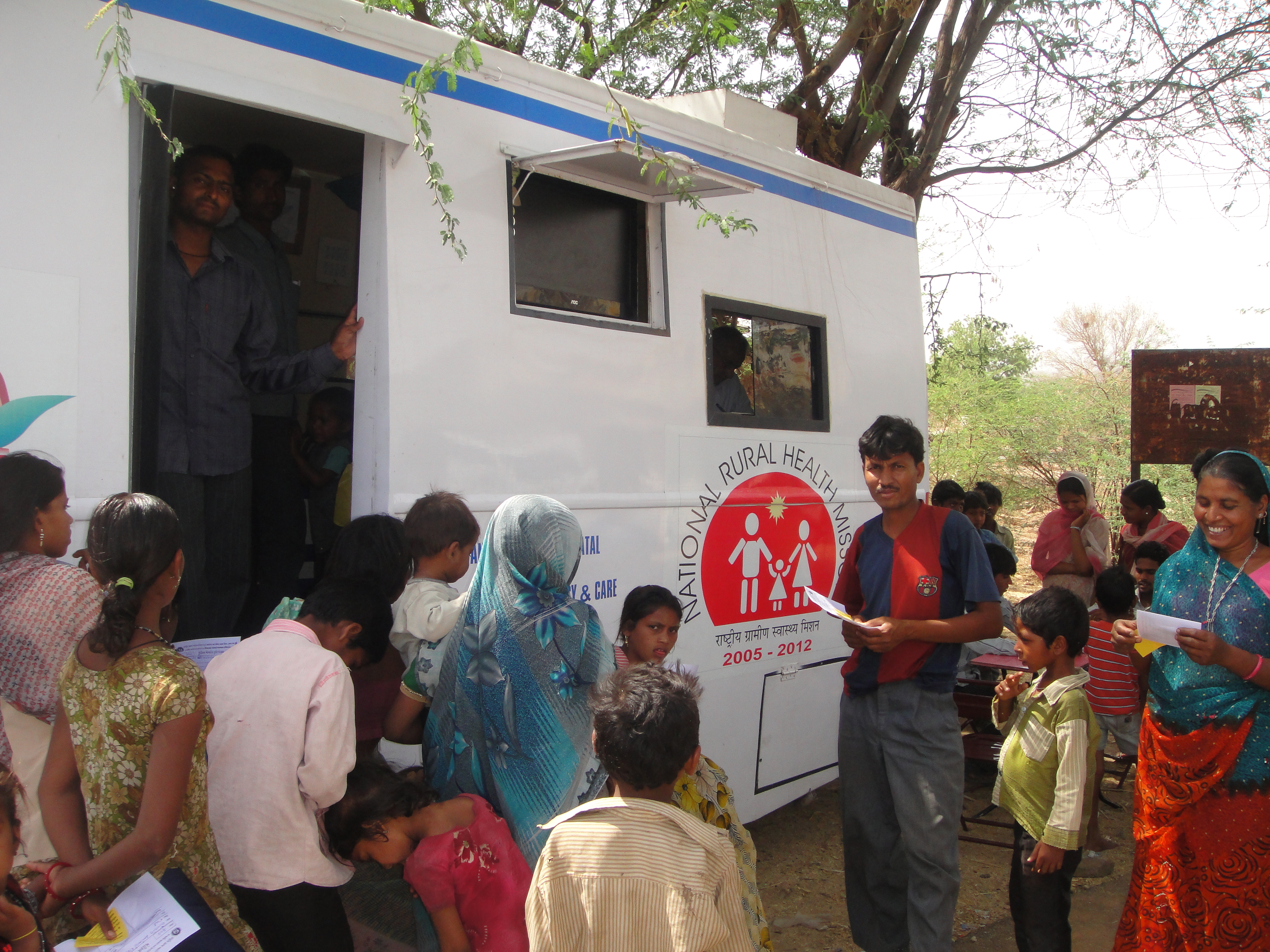 "Let all be Healthy & Let all be Happy" was the vision & mission of all Indian saints, & social activists for centuries. Inclusion of Health for all into the Millennium Development Goals is an appreciable step. Access to health care & equitable distribution of health services are fundamental goals of National Rural Health Mission (NRHM) launched by the Government of India in 2005.
Khedbramha & Vijaynagar blocks of Sabarkantha are predominantly tribal and hilly. Some of its most remote villages are devoid of basic health care services even at present due to their difficult hilly terrain, non-approachability by public transport & long distances for reaching the health centers. Poverty, illiteracy, malnutrition, lack of safe drinking water, & unhygienic habitat, bad habits & wrong traditions has rendered it endemic for many diseases.
These facts emphasize the need of Medical Mobile Unit which provides basic diagnostic services, symptomatic & curative treatment of minor aliments, encourage people to utilize available referral services in the nearby place & act as a platform for preventive programs.
Government had invited many NGOs for this project. After scrutiny 12 NGOs were selected. But only five agreed to bear the responsibility. We are the only NGO in the whole state who operates two mobile units. It serves tribal population of 126724 residing in 106 villages of Khebramha & Vijaynagar.
The service is provided on fix day at fix time at fix place.

Their position is monitored by GPS by district & state authorities.

Performance of our MMUs is found the best in the whole state in all aspects i.e. number of beneficiaries, regularity, in time reporting & satisfaction to local people.

Our services are appreciated by government authorities, local village heads and MLA.

NRHM officials of Delhi & health officer from Uttar Pradesh also found it satisfactory.

We get 90% of pre budgeted expenses as grant from the government. But every year the actual expenditure is always more than budgeted. This is because we spend more on medicines.

We need fund for that only. Every year society spends 400,000 INR from above the government contributions
Some important outcomes are as follows,
Because all organization's services are free beneficiaries saved money & it created great impact.

Organization's punctuality generated confidence in public so more people availed the services.

As services were offered at the door steps of people which reduced expenditure & harassment of journey and saved their time was were much welcomed.

People were encouraged to seek medical services in early phase of disease.

In built laboratory helped to reach accurate diagnosis which not only enabled to give proper treatment but also helped in surveillance of various diseases.

It encouraged people to utilise referral units for further investigations & treatment.

It provided opportunity for health education & also made people more receptive to it.

It helped the other health workers & ASHAs to improve their performance.

It created positive attitude for the government machinery & helped to defy the negative elements.
Organization's year vise performance is as follows.
| | | | | |
| --- | --- | --- | --- | --- |
| NO | Year | Khedbramha | Vijaynagar | Total |
| 1 | 2011-12 | 02187 | 05006 | 07193 |
| 2 | 2012-13 | 30695 | 30034 | 60729 |
| 3 | 2013-14 | 36604 | 33691 | 70295 |
| 4 | 2014-15 | 42709 | 35401 | 78110 |
| 5 | 2015-16 | 48667 | 37306 | 85973 |
| 6 | 2016-17 | 43277 | 37303 | 80580 |
| 7 | Total | 204139 | 178741 | 382880 |
Case Studies
Ravindrabhai Manabhai Gopibhai Gamar a boy aged 8 years residing at Vinchhi village was examined on 25th. October 2012. He had high grade fever with rigors on alternate days since four days with mild headache. Clinically it was a case of malaria but on blood examination it was a case of falcifarum malaria with microscopic haematuria with anaemia. He was given antimarial and was referred to Khedbramha. Her life was saved due to in time diagnosis & proper treatment. Haematinic syrup & radical treatment to prevent relapse of malaria was also given in follow up. If MMU service was available he would have been treated by a quack with drip & some injections without proper diagnosis & his life would have been endangered. We report every positive case for malaria to nearby PHC & they manage for surveillance & prevention of epidemic.
Jorabhai Homabhai Makwana male aged 62 was going with his family on 18 th June from Ratanpur to Kheroj. He felt drowsy & fell down. He had mild abrasions on face but turned unconscious. His son was frightened. He had no means to inform 108. Driver of MMU saw them on road & person lying on road side. MMU was stopped. Doctor examined him. All Vital data was normal & there were no signs of any major injury or systemic disease. His Blood sugar level was examined by glucometer. He had hypoglcemic syncope. 25% glucose was given orally. He turned conscious in few minutes & then ORS was also given. He was advised to undergo further investigation for diabetes.
Jagdishbhai Jethabhai Gamar of Chandarna village visited the MMU on 18th May with complain of weakness & pallor. His tongue & nails were pale but had no spleenomegaly. His had an average nutritional status. He was not alcoholic but he gave history of passage of worms in stool. Blood examination revealed that his haemoglobin level was just 4 gm/dl. He was advised to get admitted in hospital & have blood transfusion but he refused for it. He was given deworming treatment & advice about sanitation & personal hygiene. Moreover haematinic was also given in therapeutic dosage for fifteen days. He was asked to have regular follow up. He regularly attended MMU on 1st , 15th & 29th June, 13th & 27th july & his haemoglobin level reached 9 gm%.