Project 'Muskaan' – Supporting Government Rural Primary Education System
Jubilant Bhartia Foundation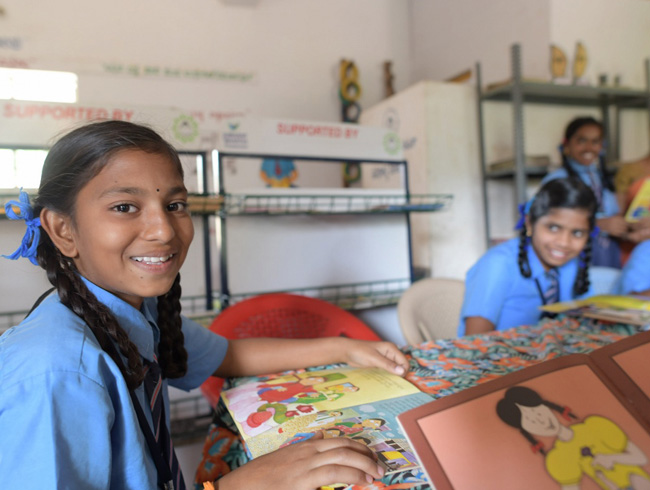 JBF understands that the lack of education is a root cause of various social and economic problems and therefore, the foundation believes that education should be the primary area of intervention for empowering the communities. In this regard, Project Muskaan was introduced in 2007 to support Government initiatives in primary education. The project has been named 'Muskaan', as it aims to bring a smile on every child's face. It' primarily aims at improving the learning environment and the quality of education in the select schools so that students are motivated to attending school and ultimately cutting down the dropout rate. The project now reaches out to rural government primary schools in the vicinity of Jubilant Pharmova's manufacturing locations.
Goal: To strengthen the education system in project areas
Objective:
To improve the learning environment in Government schools
Sustaining the interest of the students to attend school
To improve the quality of education imparted to the students
To motivate the students to take up higher studies Mode of Action: Participatory approach, Community Involvement, Monthly activity-based learning
Outcome:
Increased grading of students Increase in no. of students opting for higher studies.
Project Muskaan (Strengthening Rural Primary Education System)
Reaching out to 11000 students Enhancing the quality of education, decline in absenteeism and dropout rate Established a scholarship programme (Jubilant Pratibha Puraskar) for the talented students to support them in continuing their secondary education under the mentorship of our select employee Replicating Project Muskaan in select schools of - Uttarakhand in association with CII Foundation - Karnataka in association with HP
Implementation Partners
CII Foundation, HP
Project Type
CSR
Location
Karnataka,Uttar Pradesh